FT8Call is gone and it's now JS8Call. From 0.7 and onward, FT8Call will be called JS8Call and the FT8Call mode will become JS8 (Jordan Sherer-designed 8-FSK). Over the weekend, October 7, 2018, the new JS8Call software was born. I have downloaded and installed the new JS8Call and the software looks good. I have already made a few contacts with it using my iMac, Icom 7610 and 5 watts into a 2 element beam.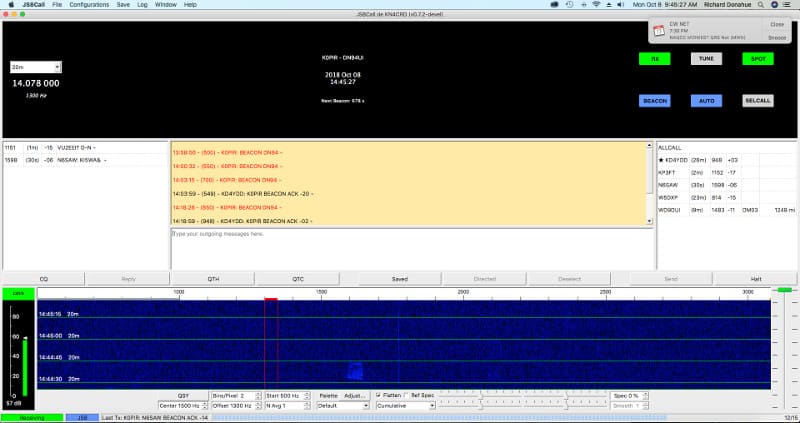 Why the Name Change to JS8Call?
The primary reason for the name change is because the designers of FT8 (Franke and Taylor) asked Jordan, KN4CRD to change it.
The mode is JS8 and that sounds better to me than FT8Call.
See my FT8Call article: New Mode FT8Call Hitting the Ham Bands
What's New in JS8Call v0.7.2?
Message compression allows transmit at up to >20WPM on some sentences.
There's a new "selective calling" (SELCALL) mode. When enabled, it acts like a filter, preventing ALLCALL and BEACONs from being displayed in your RX text area.

For Hams operating portable,  there's an easy place to manually synchronize your clock time or insert a time drift.

Beacon mode now includes an automatic "BEACON ACK" reply. It works as an automated "ALLCALL?" when you BEACON. This allows you to not have to send "ALLCALL?" manually any more. Just BEACON instead.
There are a few more things, but overall, the software has some bug fixes and should work better now.
FT8, FT8Call and JS8
These are easy modes and very exciting for many Hams. I've noticed a huge uptick in searches for FT8 and FT8Call, so I am going to experiment more with it.
I plan to take advantage of these modes while mobile and portable when conditions are poor.
It may not be everyone's bag of tea, but it's here and being used!
I'll have a video on JS8Call coming out soon.
Comments
What are your thoughts on JS8?
Thank you for subscribing to this website. I appreciate the comments, questions and suggestions. Please follow me on Twitter, Facebook, Instagram and YouTube if you have those.
Stay in touch and 73,
Rich, K0PIR
Sources:
JS8Call Download Links (Join the Group) Mac, Windows, RaspberryPi and Linux.